Back to all posts
Posted on
W.A. Day's Lighthouse Milestone Review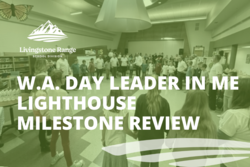 W.A. Day Elementary School underwent a Lighthouse Milestone Review on March 31, 2022. Two Franklin Covey reviewers spent the day at the school, determining if W. A. Day meets the criteria for being a Leader in Me Lighthouse school. The Lighthouse Certification is a highly-regarded standard set by Franklin Covey for Leader in Me schools that demonstrate exemplary practices.
Superintendent Darryl Seguin believes that W.A. Day's outstanding results and student outcomes indicate the school's eligibility for this recognition. "I'm confident that W.A. Day is ready to be recognized as a Lighthouse School given their commitment to leadership, culture, and academics," says Darryl. "As I attended the opening activities on March 31 I was extremely proud of the students, staff, and school community for their ongoing commitment to create a culture where leadership is a priority and everyone can succeed!"
The Leader in Me approach provides students with experiences and common language that is intended to help them develop character and life skills that will help them make positive choices as lifelong learners. The 7 Habits for children help improve academic performance and supports school success by helping to foster the qualities of independence (goal-setting, organization, time management, and planning); interdependence (teamwork, conflict management, creativity, and analytical skills); and renewal (fun, desire to learn, and making healthy choices).